Ramadan 2020 is finally here! Are you ready? If you are a business owner or a marketer, you may already know that Ramadan not only brings the best out of the Muslims spiritually but also turns them into super-consumers. In fact, Ramadan is the third-biggest festival in the UK after Christmas and Easter. According to Ogilvy.co.uk close to 80% of Muslims would love to see increased engagement from brands and retailers during Ramadan.
"RAMADAN IS A BURST OF SPIRITUAL, COMMUNITY AND FESTIVE LIFE IN BRITAIN'S HOMES AND HIGH STREETS, ALONG WITH AN ECONOMIC SURGE" – Ogivly.co.uk
The Question of COVID-19 and Ramadan
Before we delve into the issue of marketing during Ramadan let us address the issue of the coronavirus pandemic. I am sure everyone reading this article has this on their mind.
There is no doubt that it is going to be a different type of Ramadan outwardly all over the world. The social gatherings, the prayers in congregations, the events at your local mosques; none of that will be happening.
However, the spirit of Ramadan cannot be impacted by adversity. In fact, Fasting during Ramadan – which as a goal is about increasing the 'Taqwa' a.k.a. The fear of disobeying The Creator – also teaches Muslims to function normally during hardships. This is, even more so true in the Western countries where Muslims fast between 16-19 hours, many a time in circumstances that are not exactly conducive.
On top of that, Muslims believe that Ramadan comes with levels of mercy not witnessed in any other month. This increases positivity and optimism. It is highly unlikely, therefore, that consumption will come to a complete halt. Of course, as a business, you will need to be more creative and take advantage of the fact that online sales are surging at the moment due to the pandemic. However, the core of your marketing and advertising approach for Ramadan will stay the same.
The Ramadan Consumer Activity Timeline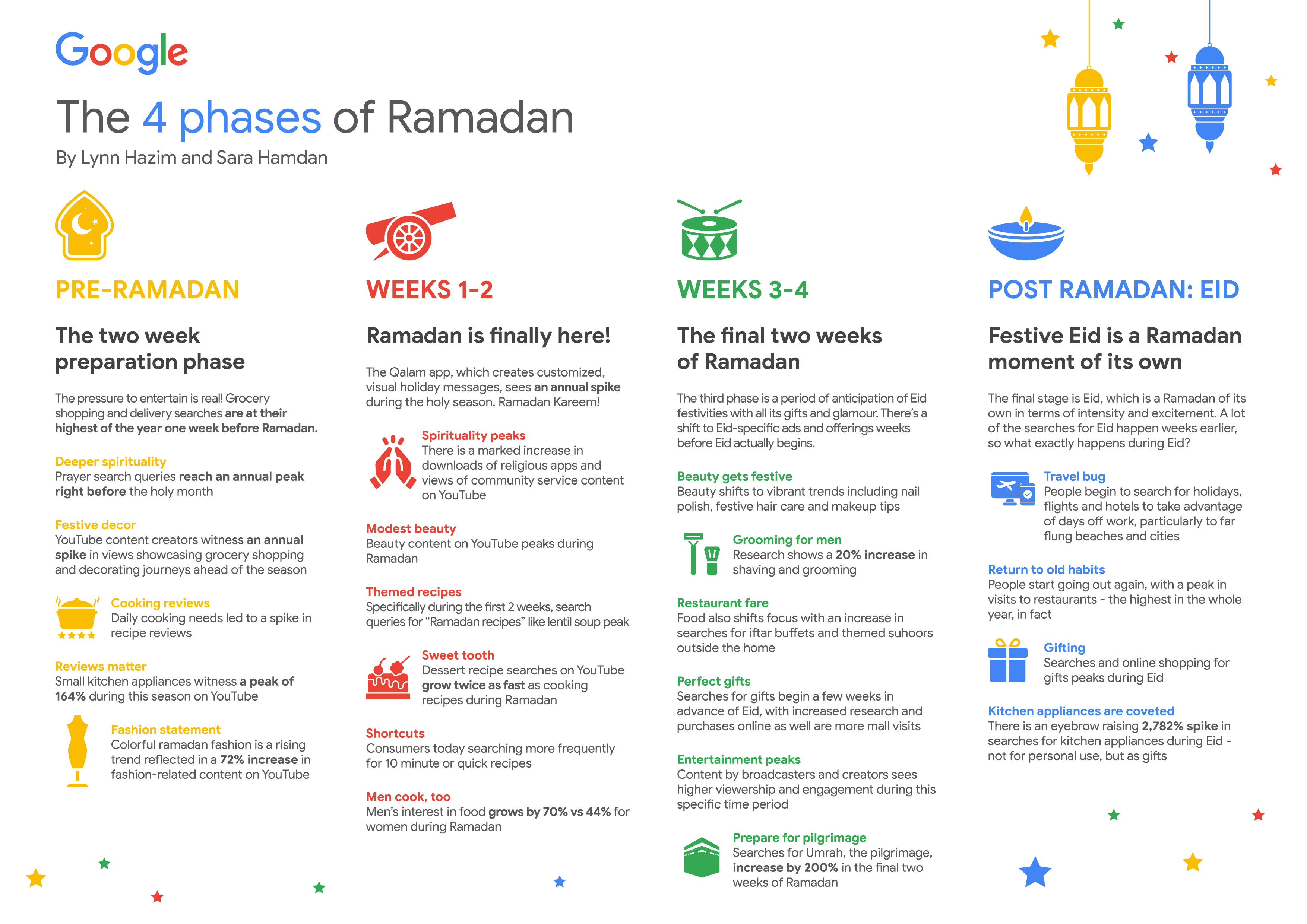 Image Source: Ramadan 2020 series part 2: The 4 phases of Ramadan -Google
The Month of Shaban
The Ramadan consumer activities start at least a month before Ramadan itself. Most preparations start during Shaban, the month before Ramadan. This is when Muslims prepare their homes with new furniture and accessories, get a new TV, buy new clothes, etc. All in preparation for the Sacred Month.
According to Google:
Small kitchen appliances see a peak of 164% on YouTube.
Ramadan fashion videos see an increase of 72% – a growing trend in recent years.
The First Half of Ramadan
Under normal circumstances, after 'Iftar' (breaking the fast), Muslims go to the mosque or out to socialize. Some may stay up until the 'Suhur' (predawn meal). In 2020, with the pandemic still expected to be dominant in many of our communities, people will stay inside and will probably be on their mobile devices mostly, but also on their tablets and desktops. This is an enormous opportunity for you to target them. If you use paid advertising – which you should in these times – you should take note that people will be online at some rather unusual hours and most of them will be on their mobile devices. The same goes for any business that offers customer support.
Image Source: Five Step Guide to Winning Ramadan Campaigns in 2019 – Google
"The data indicate that conversion is up by 30% during Ramadan. As you might expect, social media is more active as well, primarily at night. The increase peaks at 3 am when it reaches 200%. There is also evidence that customer loyalty, evidenced by repeat online visits and purchases, increases substantially during Ramadan as well." – Forbes
The Last Half of Ramadan
During the last two weeks of Ramadan, consumers shift their focus towards Eid preparations. New clothes and shoes become the most sought after products. In the MENA region, the search for kitchen appliances as gifts see a spike of 2,782%.
This is that time of year when you see Muslim families crowding shopping malls. This is because, although it would be more convenient to buy online, going to the shopping mall to buy presents and clothes for Eid is considered a nice family outing. With the COVID-19 pandemic, this is unlikely to be the case for Ramadan 2020 and all that foot traffic will turn into online traffic.
Eid Ul Fitr
Eid is a time to visit as many friends and family members as possible and exchange gifts. By this time, most of the shopping has already been done. However, Muslims still spend substantial amounts on eating out and other amusement and fun activities.
Most of these activities will not be possible during Eid 2020. However, this means that if people will stay indoors, they will be on their devices. For example, instead of eating out, they may order in.
These are strange and uncharted lands that we find ourselves treading with the coronavirus pandemic. However, one thing is for sure. The online purchasing activity will be at a life-time high given the restrictions in place. If you do not seize the opportunity and be ready for it as a business, you will have no one to blame but yourself.
Tips for Advertising During Ramadan 2020
Make Your Ads Focus on the Spirit of Ramadan
Ramadan is about spirituality and family. Although shopping is at an all-year high for Muslims in Ramadan, this behavior stems from spending memorable times with the family. It is not driven by price discounts. So no, you cannot refurbish your Black Friday creative assets to use for Ramadan campaigns. Focus on the meaning of Ramadan if you want to catch the eye of Muslims online.
Advertise to Your Customer Base
You can make your life easier by targeting your customer base. If you have run Ramadan promotions before, you can choose to target those customers in a separate campaign. One thing I must point out though is that you will get better results if you engage them throughout the year, before and after Ramadan. Showing up only during Ramadan is not as impactful as being top of mind throughout the year.
Target Mobile Devices More
As we have already mentioned, during Ramadan people spend more time online on their phones. This year with the COVID-19 pandemic it is to be expected that mobile device usage will surge even more as people spend more time indoors. So make sure you target mobile devices and make sure your website pages are responsive.
Use Ramadan as a Springboard for Long-Lasting Customer Relationship
The biggest mistake you will ever make as a brand is taking the money and running. Ramadan is such a special time for Muslims. It is a psychological truth that relationships that are built during a positive experience flourish. So why not build campaigns that connect you with your audience on a more personal level and keep that relationship going throughout the year?
If You Can't Sell Create Brand Awareness
If you are a brand or company that has its selling capabilities limited by the COVID-19 pandemic, you can still take advantage of Ramadan's rush and create brand awareness campaigns. This will help you create lists for retargeting as soon as the outbreak dies down.
Remember that You are not Alone
Muslim Ad Network has been helping businesses reach Muslim audiences since 2010. We know the ins and outs of advertising to Muslim consumers, and we will help you get the biggest bang for your buck during the sacred month of Ramadan and beyond, and especially during these tricky times of the COVID-19 pandemic. Get in touch with us as soon as possible at sales@muslimadnetwork.com to take advantage of this Ramadan season to market to Muslims.